What Are the Benefits of a Career in Healthcare?
Posted On
The healthcare sector plays a vital part in modern society, and it will always be needed to help support the wellbeing of people all over the world. This doesn't just stop at hospitals or healthcare clinics either, but looking at advancements in technology that can be used to improve patient care, assess the ethics of medical practices, research diseases, and come up with vaccinations and other treatments to help fight them and improve quality of life. It is such a vast sector that has many essential components to it, and it requires countless talented people to work hard to make all of this possible.
Although working in healthcare can certainly prove challenging at times, particularly in specific roles that come with high pressure, there are so many benefits to dedicating yourself to a career in this sector. It might not be the right fit for everyone, but if you have been contemplating whether or not to look at a career in healthcare, here are a few more reasons why should pursue this.
1. Multiple Career Paths
When you are thinking about a career in healthcare, some of the first roles that come to mind might be more patient-facing roles, like doctors, nurses, therapists, etc. While all of these career options are fantastic, there are a lot more opportunities in this sector to explore. Not everyone will be suited to these typical healthcare roles, so if this is something that has been putting you off working in this industry, then take some time to look at what else is on offer. You might find that you're more suited to research-based roles, or administrative and management positions. The latter would be a good fit for an individual who also has an interest in and talent for business management, as these positions tend to focus on how a hospital or clinic is run, rather than specifically dealing with medical treatments, etc.
You could also explore roles in education, recruitment for healthcare, and even working in government as part of the health and social care department. With so many different opportunities available, it's possible to find a role in this sector that will match your skills and where you can thrive.
2. Job Stability
When you are choosing a career path, it's important to consider how much stability a role can offer you. Although there might be a lot of exciting jobs out there, not all of them can offer this due to either changing markets, or limited opportunities that make the competition even greater. Certain roles may also become obsolete due to technological advancements, or they are simply no longer in demand. While certain areas in the healthcare sector might also face these challenges, overall, there will always be a need for people in healthcare roles as it is such an essential service for society. Choosing to pursue a career path within healthcare can provide you with peace of mind that your job will be stable, allowing you the opportunity to plan for the future. These roles often come with comfortable salaries too, which is another benefit that can allow you some financial security.
3.   You Will be Making a Positive Contribution
No matter what role you choose to take in healthcare, you will still be making a positive contribution to your local community and wider society. Even if these roles might not sound like the most glamorous positions in the world, everyone who works as part of this industry is helping to change approaches to healthcare and continuing to develop this service in one way or another. It might not bring you fame, but you can take pride in the fact that your work will be making a difference. This is one of the most rewarding things about a healthcare career, whether you're someone who's helping behind the scenes, or you're working directly with patients every day.
4.   An Opportunity to Learn
Not all roles in healthcare require a degree, but some positions will do. If you wanted to work in nursing, for example, you would need to have an undergraduate degree in this field. You would also need to take a licensing exam to become a registered nurse before you can practice professionally. If you wanted to pursue a higher position in this field, you may also need to get a Master's degree or PhD, depending on the role you are interested in. There will be various approaches to getting an undergraduate degree or higher qualification, such as this ADN to NP program online for nurses looking to make some career advancements.
This is not just limited to nursing however, so if you are someone who would like to achieve a degree or are simply looking for a career that can provide learning opportunities for you, then working in the healthcare sector can offer this.
5.   Employee Benefits
Another perk of working in healthcare is that you might find yourself getting a variety of employee benefits as part of the package. What you will be offered will depend on the job you are working in and which organization you are employed by, but it's not unusual to find that healthcare companies offer this to their staff. This may include discounts at stores and restaurants, particularly for frontline staff. You may also get good pensions, contributions towards healthcare, and more.
These perks can be great additions, and you might find yourself surprised at the difference they can make to you. While there are other companies outside of the healthcare industry that will offer their employees benefits like this, not all do, so it is worth looking out for this.
6.   The Possibility of Flexible Working Hours
Flexible working hours have become a bigger trend in recent years, especially in the wake of the pandemic when companies had to adjust to remote working. This might not be exclusive to a career in healthcare, but it is still possible to find yourself with a more flexible working schedule in these roles. Some positions might offer shift rotations, and this can be preferable to those who might have other commitments or are looking for something that doesn't stick to the rigid 9-to-5 working format. You might also find that you can work from home on some days, but these will depend on your specific job role.
7.   Different Working Environments
As there are so many different career paths in healthcare, that also means that there are various working environments you might find yourself in. This can be great for those who are looking for something that isn't entirely office-based, and you may even find a career path that allows you to travel as part of your job too. If you are someone who thrives in high-pressure environments, then employment in a hospital setting might work for you, whether this is in a patient-facing role or part of the administrative team. If you like public speaking, you could find yourself working in healthcare to organize conferences, or as a representative for a hospital or governing body. You could even work in a laboratory if you have a scientific background and want your work in healthcare to be more research-based. The opportunities are endless, and they can certainly keep you on your toes.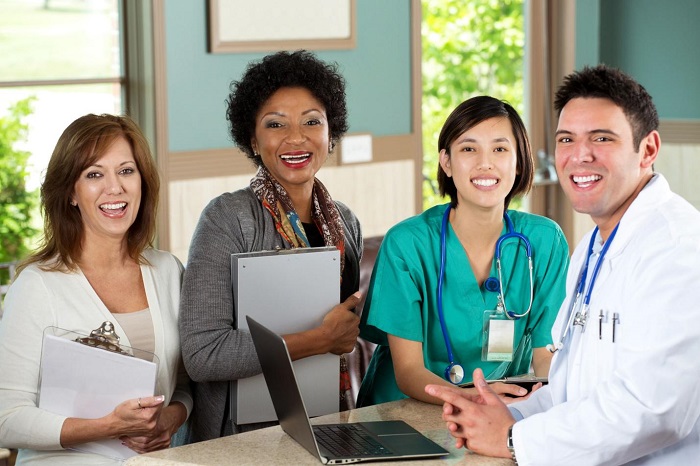 8.   It's a Career That Will Challenge You
As there are a lot of growth opportunities in healthcare, no matter what role you decide to take on, you will find yourself challenged when you start working in this sector. It is important to have a career that will push you, as this can help keep you motivated and is good for both personal and professional development. It will help you learn more about yourself and realize your true potential. If you are looking for a career that will challenge you and stay interesting, then this is an area that you might thrive in.
There are a lot of interesting industries to look at when you are trying to determine which career path will be right for you, and it's important to take your time to find a role that will be a good fit. However, it's also good to recognize that what you choose now doesn't have to be forever, and you can decide to change career paths at any time if you want to. You might have already started working in a certain industry, and have found yourself starting to question this choice and wanting to look at other options. If this is the case, and you haven't considered healthcare before, do take the time to look into the different roles on offer in this sector. You might be surprised to discover the perfect role for you that you're passionate about and that can offer you a lot of job satisfaction.
Take the time to think about the points listed above, and do some further research into the paths in the healthcare sector that appeal to you. It could be the best career decision you ever make!